Sonar
Exhibition program

Author

Michael Sailstorfer

Dates

—

Curated by

TRES
Sailstorfer, who very often uses literary references in his work, mentions the case of Oskar Matzerath, the main figure in Günter Grass' novel The Tin Drum (1959), a boy who stopped growing by his own choice when he was three years old and was able to break windows with the timbre of his voice. He also alludes to Window Blowout (1976), an interesting and complex artistic action by American artist Gordon Matta-Clark that involved shooting out the glass windowpanes of a New York building.
Sonar (2010) is a very experimental work based on the challenge of turning a sound signal into a sculpture or, in other words, making the signal visible. To do so, Sailstorfer has built a wooden room with a single glass window, which he has subject, using some powerful speakers and a sound generator placed inside, to the frequency, decibel levels and pressure required to destroy the glass. The eventual film of the experiment, which covers the whole process up to the moment the glass breaks, is shown in the room through its only window, the glass pane of which has been replaced.
The exhibition at Espai 13 is rounded off with the work A Microphone in My Mouth (2006), in which a human skull is turned into a sound box, just as an electric guitar requires an amplifier to be heard.
This exhibition is accessible for deaf and hard of hearing people.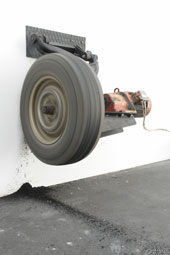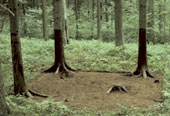 Related links
In collaboration with: