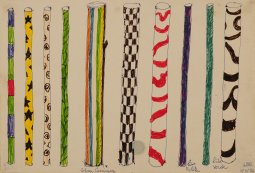 Lina Bo Bardi Drawing
This exhibition is about the profound sense of connection that architect Lina Bo Bardi (1914-1992) had with drawing. More than the tool of a designer, to her, drawing was a primary expressive means driven by a strong sense of curiosity and doubt. She never claimed drawing to be an independent artistic language, but she embraced it with artistic purpose. Drawing to her was both a noun and a verb, outcome and process, object and relationship.

about "Lina Bo Bardi Drawing"