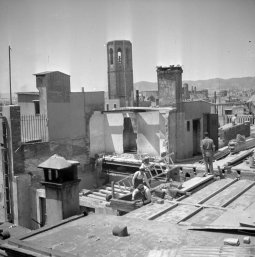 1946-1947 Barcelona – Mont-roig – Karachi
This selection of photographs by Joaquim Gomis captures a historic and personal moment of suspended time and a sense of emptiness, of collective post-traumatic shock, of phantoms and absences, of dejection and very slow reconstruction. Meanwhile, in other parts of the world, new collective confrontations were erupting which were often the result of the dismantling of European 'empires' and the beginning of the Cold War. Coinciding with the solo exhibition of Nalini Malani (born in Karachi, Undivided India, in 1946) at Fundació Joan Miró, we delved into Gomis' archive to find photographs from those two years that would convey the prevailing mood in Catalonia right at the moment when what was known as British India was declaring its independence. A declaration that came with a territorial partition that brought about a wave of sectarian violence that, like in Spain, left a legacy that still needs reckoning and reconciliation.

about "1946-1947 Barcelona – Mont-roig – Karachi"