Martín Vitaliti. Silly Symphony
Exhibition
Silly Symphony
Artist
Martín Vitaliti
Dates
28.10 - 15.01.2023
Curator
Pere Llobera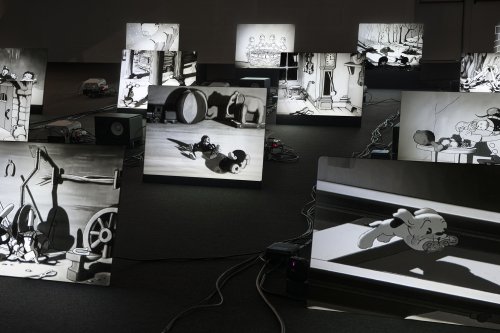 Martín Vitaliti closes this season's exhibition series at Espai 13 with Silly Symphony
In the basement gallery of the Fundació Joan Miró, Vitaliti proposes an audiovisual installation that centres on recurrence and repetition in American animation production processes from the early 1930s.
The artist intervenes in a fragment of these animations, where the animators reused certain drawings to optimise the production line and maximise benefits.
Silly Symphony is the final proposal of Dive and Immersion, an exhibition series at Espai 13 for the 2022 season, presented at Fundació Joan Miró with support from Banco Sabadell Foundation. Curated by Pere Llobera, the project has focussed on the current state of pictorial practice through four exhibitions by artists from the local scene, representing the vast diversity of languages being played out in the Barcelona context.