October 2022 Activities
Experience Montjuïc. The Culture Park
8 and 9 October
European Heritage Day
8 and 9 October
Skylight. +Biennial of Thought
15 October, 5.30 pm
Paul Klee and the Secrets of Nature. Press conference
19 October, 12 noon
Jump and I'll Catch You. Barcelona Dibuixa 2022
23 October
Martín Vitaliti. Silly Symphony
27 October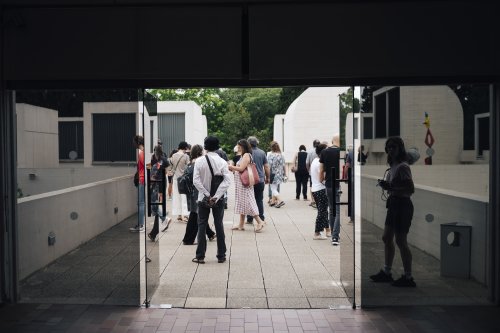 The Fundació Joan Miró is offering a packed programme of exhibitions and activities in October
The show Paul Klee and the Secrets of Nature will occupy the temporary exhibition rooms from 20 October. Exclusively sponsored by the Fundación BBVA, the project focuses on the importance of the study of the natural world in the Swiss-born German artist's works. Curated by Martina Millà, head of exhibitions at the Fundació Joan Miró, in collaboration with Fabienne Eggelhöfer, chief curator at the Zentrum Paul Klee in Bern, the exhibition highlights the undying fascination that Klee felt for the exploration of natural phenomena throughout his career as an artist and pedagogue. The curatorial story underscores his desire to embrace the internal laws of nature.
From 27 October, Martin Vitaliti will present the proposal entitled Silly Symphony, which will close this year's exhibition programme for Espai 13 - Dive and Immersion, curated by Pere Llobera. Vitaliti's work is based on the appropriation of early animated films from the American cartoon industry of the 1930s. The artist focuses on the production-line artisan process of producing the drawings used in these early animated films. He is specifically interested in sequences of the characters' repetitive movements in a particular scene. In his exhibition, Vitaliti will create an installation to show the tragic and alienating dimension of these repetitive loops, which refers to the extreme advantage taken of the production line to maximise profits.
This autumn, the Fundació Joan Miró is again taking part in the city's main cultural events. For this year's edition of Barcelona Dibuixa, the big local drawing festival, the museum is offering an activity by the artist and curator Pere Llobera. On 23 October, Llobera will lead Jump and I'll Catch You, a workshop that aims to foster creativity and plastic expression from the perspective of trust and the satisfaction of sharing a usually solitary activity with more people. Within the framework of Biennial of Thought 2022, the Fundació is presenting Skylight, a forum of creation and thought thay will have two specific parts: a collaborative open digital magazine and an in-person meeting at the Fundació Joan Miró, with the presentation of outstanding works and a talk. During the weekend before, the Fundació Joan Miró will be offering two open days as two outstanding cultural events come together.: the European Heritage Days and the second edition of Experience Montjuïc. The Culture Park, an initiative that invites citizens to rediscover the hill as both a green lung and a cultural referent for the city, with a weekend of culture, nature and leisure.