Julia Spínola. vis.
Images
To access images of the collection and temporary exhibitions, subject to rights, you must sign in as a professional.
Exhibition
vis.
Artist
Julia Spínola
Dates
25.09 - 14.03.2021
Curator
Marc Navarro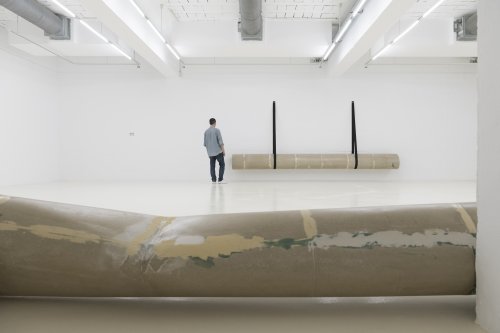 Julia Spínola proposes the revision of multiple premises of perception, in vis..
This project for the exhibition series Turn it all turns proposes an installation that points to the difficulty of fixating objects in space and to the instability of images. Sculptures and silkscreens enable the artist to question the act of seeing as a way of comprehending reality. In her project, the gaze is key to a framework of experience where meanings are erased and where the observers become newly aware of their presence in the process of perception.
Turn it all turns is the exhibition series at the Espai 13 of the Fundació Joan Miró for the 2019-2021 season, with the support of Banco Sabadell Foundation. Curated by Marc Navarro Fornós (Deltebre, 1984), the project explores and activates the notion of estrangement, proposing a rereading of our immediate surroundings and of how we relate in them.