2019: Nalini Malani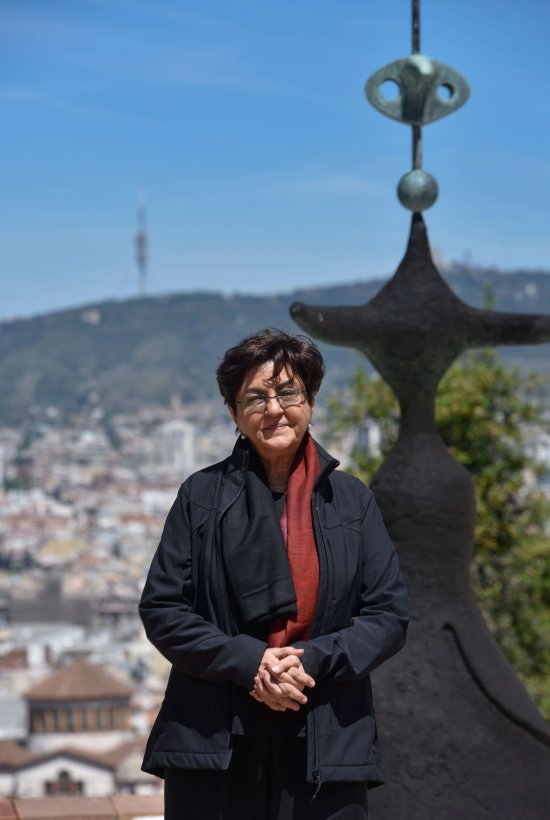 The Indian artist Nalini Malani is the winner of the seventh edition of the prize granted by the Fundació Joan Miró and the Obra Social "la Caixa", one of the most prestigious and best-endowed contemporary art awards in the world.
The jury acknowledged her longstanding commitment to the silenced and the dispossessed all over the world, most particularly women, through a complex artistic quest based on immersive installations and a personal iconography where a profound knowledge of ancient mythologies converges with a bold condemnation of contemporary injustices.
Nalini Malani (Karachi, 1946) was born under the British Indian Empire and grew up between Kolkata and Mumbai, where her family sought exile after the Partition of India. This personal background marked by the consequences of colonialism led to a firm socio-political commitment and a distinctly cathartic approach in her work, a reminder of the vulnerability of human existence and the exploration of female subjectivity. She now lives in Mumbai, where she pursues her multi-disciplinary artistic quest in a language all of her own.
A pioneer in film, photography, installation, video art and performance in India, Malani studied fine arts at the Sir Jamsetjee Jeejebhoy School of Art in Mumbai and then spent two years in Paris, from 1970 to 1972, with a scholarship from the French government. In 2010, the San Francisco Art Institute granted her an honorary doctorate in fine arts and in 2013 she became the first Asian woman to receive the Arts & Culture Fukuoka Prize. Among other distinctions, the artist was also acknowledged with the St. Moritz Art Masters Lifetime Achievement Award in 2014 and the Asian Art Game Changers Award in 2016. International art institutions to have shown her solo exhibitions include the Centre Pompidou in Paris, the Castello di Rivoli - Contemporary Art Museum in Rivoli, the New Museum of Contemporary Art in New York, the Institute of Contemporary Art (ICA) in Boston, the Stedelijk Museum in Amsterdam, the Irish Museum of Modern Art in Dublin and the Kiran Nadar Museum of Art in New Delhi.
Jury Statement for the 2019 Joan Miró Prize
Nalini Malani: You Don't Hear Me
Exhibition at Fundació Joan Miró
19/06/2020 - 29/11/2020
Related links