2017: Kader Attia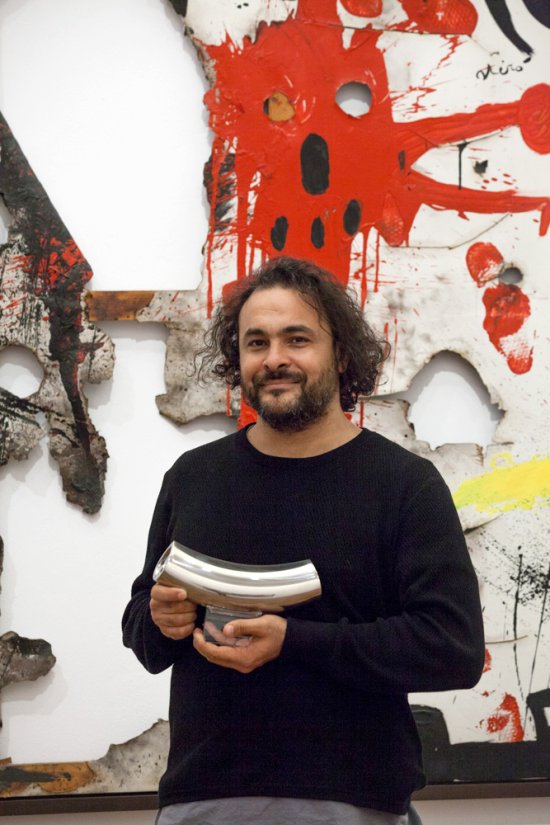 The Franco-Algerian artist Kader Attia has won the sixth edition of the Joan Miró Prize. The prize, which is awarded by Fundació Joan Miró and Obra Social "la Caixa", is one of the most prestigious and generous contemporary art awards in the world.
The jury highlighted the breadth of his artistic research, especially with regard to the lingering effects of colonialism, his encyclopedic elaboration of the notion of "repair," and his passionate engagement with current affairs.
"la Caixa" Foundation will provide the cash prize of €70,000 and cover the cost of producing a monographic exhibition of Attia's work, to be held in 2018 at Fundació Joan Miró.
Kader Attia (Dugny, 1970) grew up straddling East and West, between his parents' Algiers and his own native France. As a young man, he lived in the Democratic Republic of the Congo, Venezuela, and the city of Barcelona. These experiences both imbued his work with an unmistakable intercultural approach and sparked a particular interest in exploring the aftermath of colonialism and the notion of repair. He currently divides his time between Berlin and Algiers, where he produces multidisciplinary art spanning a wide range of techniques, materials, symbols and subjects. Attia studied at the École Supérieure des Arts Appliqués Duperré and the École Nationale Supérieure des Arts Décoratifs, in Paris, and Escola Massana, Centre d'Art i Disseny in Barcelona. His work has been featured at such leading international institutions as Whitechapel Gallery (London), Tate Modern (London), Centre Pompidou (Paris), MoMA (New York), the Solomon R. Guggenheim Museum (New York), the Museum of Contemporary Art Australia (Sydney), the KW Institute for Contemporary Art (Berlin), and the Museum für Moderne Kunst (Frankfurt), among others. He has also participated in multiple biennales, including the 11th Cairo Biennale; the 5th and 6th Marrakech Biennales; dOCUMENTA (13) in Kassel; and the 50th and 57th Venice Biennales, the latter open to the public until November 26, 2017. He is the recipient of the 2008 Biennale Prize from the Cairo Biennale, the 2010 Abraaj Capital Art Prize, and the 2016 Marcel Duchamp Prize.
Kader Attia. Scars remind us that our past is real
Exhibition at Fundació Joan Miró
15/06/2018 - 30/09/2018
Related links