Che-Yu Hsu. 'Zoo Hypothesis'
Author

Che-Yu Hsu

Dates

—

Place

Roomb 20 of the Fundació Joan Miró
Che-Yu Hsu was the winner of the 2020 Han Nefkens Foundation - Loop Barcelona Video Art Production Grant, in collaboration with the Fundació Joan Miró. Upon receiving the grant, the Taiwanese artist started a new series of works in collaboration with a forensic team specialised in 3D scanning of crime scenes.
Che Yu-Hsu's practice focuses on the research and revisiting of historical moments, as well as on the reconstruction of private and collective memories. For this occasion, Che-Yu Hsu presents Zoo Hypothesis (2023), a single-channel video work featuring a scriptwriter and an actor having a conversation on a performance they are preparing that explores the relationship between 'gestures' and 'horrors' in a taxidermist's studio.
The conversation revolves around two events from Japanese occupied Taiwan during World War II. One is the memorial ceremony held in a zoo to honour animals that died during military operations, for which animals such as elephants and orangutans were trained to kneel as a symbolic gesture of mourning. The other event alluded to the mass execution of animals that took place in 1944 at Yuanshan Zoo. The killing was intended to prevent civilian casualties caused by runaway animals in case the US military bombed the city. The animals' bodies were then stuffed using taxidermy to preserve their movements and postures.
The dialogue between the two characters is visually overlapped with digital reconstructions of the oldest zoo in Taiwan and its taxidermy studio using 3D scanning technology.
A project by Fundación Han Nefkens, Fundació Joan Miró & LOOP Festival.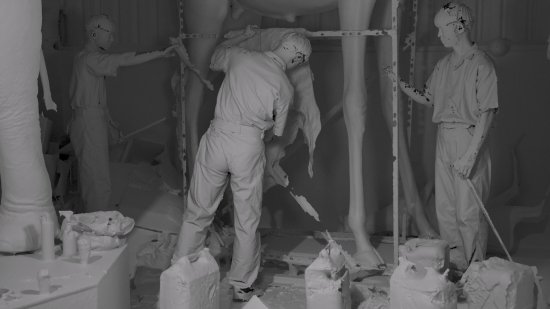 Follow this exhibition on social media
Press Office