Before the Horizon
Dates

—

Curated by

Martina Millà
Before the Horizon is an anachronistic gathering of painted and photographed horizons with an occasional foray into sculpture, installation, and land art. The title and the spirit of the exhibition are a reference to Georges Didi-Huberman's book Devant le temps, a study of anachronism and art history. In the wake of great thinkers such as Walter Benjamin, Carl Einstein, and Aby Warburg, his analysis raises the issue of anachronism as one of the taboos of art history as an academic discipline.
The exhibition revolves around the representation of the horizon as a recurrent theme and a major challenge in painting, and is organized as a sequence of anachronistic conversations and dialogues that address a variety of aspects of the represented horizon. The point of departure is an introductory room devoted to Joan Miró, followed by a large European section broken up into rooms about the Nordic horizon, the French horizon, seascapes, and the contrast between the expressionist horizon and the Japanese horizon, culminating with a chapel devoted to the horizon. Next is a large second section focusing on the 20th-century American horizon, followed by a final section on the postcolonial horizon. Last of all, an epilogue summarizes the lessons drawn from the exhibition and poses a question: Is the horizon the locus of painting? Is it the line where all the challenges and paradoxes of the pictorial act may be found?
Before the Horizon is curated by Martina Millà, Head of Programmes and Projects at the Fundació Joan Miró, and sponsored by the Fundación BBVA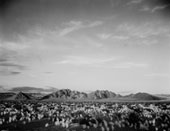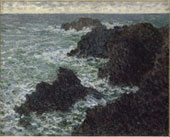 Related links
Què diu la premsa d'aquesta exposició?
In collaboration with: