Architectures of Silence
Exhibition program

Author

Tom Kotik

Dates

—

Curated by

TRES
The Czech-born artist Tom Kotik (1969), who lives in New York, will be presenting Architectures of Silence, a series of works dealing with both the physical aspects of silence and the materials that allow it to be constructed, as well as with the socio-political implications suggested by the concept of silence itself.
Kotik constructs a discourse on the dynamics of power and repression, and on the strategic and often perverse uses of silence, with works that explicitly suggest silence by combining the idea of "absence", implicit in the term, with the physical "presence" of a silence that becomes highly material.
Rational Impulse (2004) is an interactive sound sculpture formed of two sound-proof boxes that have been designed for rock-music to be played at top volume without more than a slight murmur being heard outside. When the viewer opens the boxes, a deafening blast of music from Kotik's own band, The Mighty High, fills the space. Closing the boxes, which takes place in two phases, creates the interesting effect of muffling the sound or the almost physical sensation of "constructing silence".
Untitled (for Jan) (2007) converts sound into a silent yet tactile experience. The piece consists of a music stand fitted with loudspeakers that reproduce a soundless music whose inaudible frequencies cause the compulsive movement of the membranes.
Kotik's most recent works are totally devoid of amplification and loudspeakers and focus on the use of certain particular materials - a strategy that the artist calls the "politics" of silence. The attempt to refer to silence without using any kind of sound is reflected in his small Soundstudies (2007), made with professional sound-proofing materials, and also in the more recent Felt Drawings (2009), which actually help absorb the acoustic energy from the space through large pieces of felt cut in the shapes of different types of amplifiers for bass or electric guitar. This is how Tom Kotik manages to transmit silence through form and to make sound art without using sound.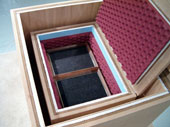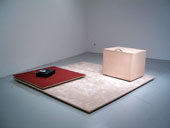 Related links
Lower Manhattan Cultural Council
Interview with John Lekay - Heyoka Magazine
In collaboration with: