Universe Miró in Delhi
Venue
Embassy of Spain in India
Dates
13/05/2022 - 24/07/2022
With the collaboration of
Ministry of Foreign Affairs, European Union and Cooperation, and Abertis and its foundation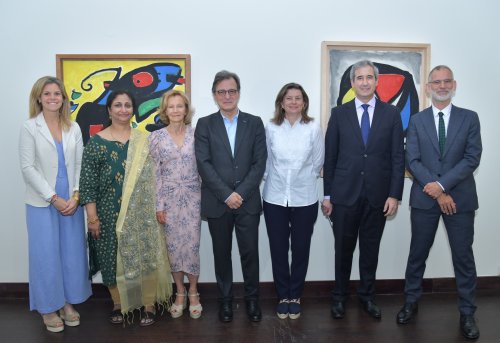 The Fundació Joan Miró and the Fundación Abertis are to open Miró Universe in India, featuring a selection of works by the artist.
José María Ridao, Ambassador of Spain in India; Sara Puig, President of Fundació Joan Miró; and Elena Salgado, President of Abertis Foundation, attended the opening of Miró Universe in the Embassy of Spain in India. From May, 13, to July, 24, the project shows four paintings and one sculpture by Joan Miró, as well as photographs by Joaquim Gomis, a friend of the artist and first president of the Fundació Joan Miró.
Miró Universe is to be presented for the first time in India. Between 2019 and 2021, the Spanish embassies in Rome, Berlin, Dublin, Brussels and Paris hosted Miró Universe, as well as Cultural Centre of Spain in Mexico, thanks to collaboration between the Spanish Ministry of Foreign Affairs, European Union and Cooperation, Abertis and its foundation, and the Fundació Joan Miró.