Marcel Rubio Juliana. The resurrection
Exhibition
The resurrection
Artist
Marcel Rubio Juliana
Dates
29.04 - 03.07.2022
Curator
Pere Llobera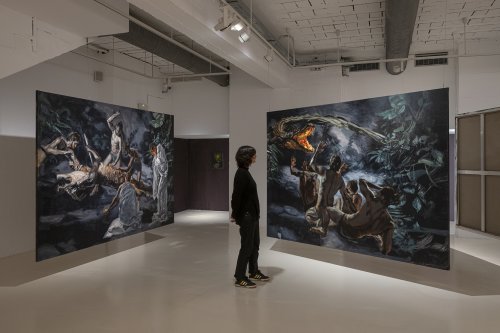 Marcel Rubio Juliana explores the concept of resurrection through alchemical process.
In his proposal for the current exhibition series at Espai 13, the artist presents an elaborate visual framework through which to address the relationship with regenerative energy and recursive movement between matter and spirit.
In The Resurrection, Rubio Juliana applies a three-pronged perspective in evoking this series: one is symbolic, as a process of alchemical transmutation; the second is physical, with a detailed description of all bodily and spiritual processes implied; and the third is genealogical, with reference to the term's Christian substrate.
Marcel Rubio Juliana illustrates this extreme metamorphosis with an extended series of large-format oil paintings and figurative iconography, arising from the direct observation of both human and animal models.
Dive and Immersion is the series of Espai 13 exhibitions presented by the Fundació Joan Miró for the 2022 season in partnership with the Banco Sabadell Foundation. Curated by Pere Llobera (Barcelona, 1970), the project focuses on the current state of the pictorial art through four exhibitions of artists on the local scene who represent the wide variety of languages used in our context.